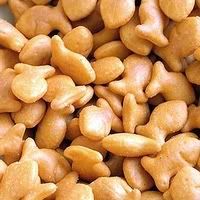 SO MANY CHOICES---
As I said before, I am not going 100% green, organic, natural, eco-friendly, etc. I am just trying to improve. Interesting enough, I am finding myself faced with decisions with every product I look at! Last night, I go to Target to get some snacks for the kids...I get Goldfish, because they LOVE them (and SO do I!). Are they organic? No, natural, again, nope, healthier? Than what? Than the sugar filled fruit snacks they were sitting right next to, you bet! But then, I have my choice....original, or Whole Grain (Which by the way, you need to be REALLY careful when reading labels that say WHOLE GRAIN, because believe it or not, often times the product is not REALLY whole grain...more on this later.) So I pick whole grain. You can see the
nutrition information here.
My point here is just there there are SO many choices! How am I ever going to figure it all out! Esp. when it comes to snacks for my kids they they are going to LIKE and eat! Oh-well!
AN OBSESSION!
I LOVE Starbucks. To many of you this is not a NEW piece of information. And this morning because I took my sister to work super early (for a Saturday), and because I needed to go to work myself an hour and a half later, I decided to stop inside and get a drink. So I order (with out ANY hesitation) a grande, iced SKCDL with 4 add shots. (For those of you who don't work at, or never did work at Starbucks, SKCDL stands for Skinny cinnamon Dulce latte.) Instead of some type of pastry for breakfast (because even their REDUCED FAT coffee cakes still have around 325 calories in a slice) I got a banana. Both of these options while not organic and only one of them being 100% natural, they were the healthier option. (Yes, I DO realize that the syrup used to make my drink IS made with artificial sweeteners, but the coffee is fair trade coffee, so doesn't that cancel out the fact that I was consuming artificial sweetener?) The point I am getting at here is that I do not have to give up. Although I am consuming a plastic cup (that is made from recyclable materials), I thought of a solution for that...purchase my own plastic cup for future use. I know that may sound really stupid, but having a cup for my cold beverages (yes, for those that
know
me know I do not use that word often.) thus, I will look at inserting in one.

WHATS GOING ON AT STARBUCKS THAT IS GOOD FOR THE EARTH-
Well for starters they sell
fair trade coffee.
I guess that is more good for man kind as opposed to good for the earth. But they DO also sell
organic coffee
which IS good for the earth, and the coffee that you consume.
However, when I walked in this morning, I saw a beautiful table set up with the new
PRESERVATION campaign
. There is so much going on with that that if you want all the information, you can read the article that I linked, but here is some of the highlights: The new Starbucks card that you can get is made of at least 80% post consumer recycled materials! PLUS, after you register the card every time the card is used, .05 is donated to Conservation International. They also have new mugs/bottles/cups that are made from post consumer materials. Again, this is good for the earth.
Starbucks also sells
ETHOS water
. Starbucks donates a portion of each bottled water sale to ETHOS to help create clean water for children in Africa...not too shabby there. PLUS, the plastic bottles that the water is sold in is made from....you guessed it...post consumer materials! :) Another PLUS! AND....guesssss what!?! You can recycle the bottle when you are finished!
Starbucks, is offering prepackaged organic snacks too! I did not write down what brands they are using, so I will come back and let you know, because they were geared more towards children and I thought that was interesting. SO I will come back and UPDATE this once I get the information! :)
To wrap this up, I knew a lot of this information already, but wanted to share it with you. In all honesty, I could spend hours and hours blogging on the pros and cons of Starbucks, how they are green, and how they are not...but for now, this is what I wanted to focus on! :) The fact that there are choices offered that are healthier/organic/eco-friendly (I really need to come up with an acronym for this because I have a feeling I am going to type this out a TON! LOL!) I am not also suggesting that you go out a buy a bunch of crap you don't need because it is organic/healthier/eco friendly whatever, I am just letting you know what is out there! :)